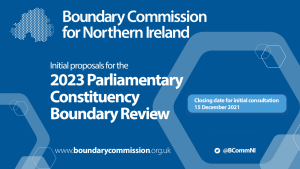 The Boundary Commission for Northern Ireland (BCNI) has today published its Initial Proposals for new UK Parliamentary constituency boundaries in Northern Ireland. An 8-week public consultation is now open for members of the public, political parties and wider civic society to share their views on the proposals.
In developing its proposals, the Commission must ensure that all constituencies in Northern Ireland are in line with the requirements of the Parliamentary Constituencies Act 1986 (as amended). Having considered the statutory rules, the Commission has set out a report detailing its Initial Proposals for Northern Ireland's constituencies and now welcomes public input as part of the statutory consultation process.
Commenting on today's publication, Deputy Chairman Mr Justice Michael Humphreys said:
"I am pleased to announce the publication of the Commission's Initial Proposals, and the beginning of the first period of public consultation of the 2023 Review. The Commission is keen to encourage everyone with an interest to share their views by engaging with the consultation process, whether it is to support the proposals, or to suggest alternatives which also take into account the requirements of the legislation."
Written representations must be received by the Commission by 15th December 2021 and can be submitted using the online portal, by email, or by post. These representations will be published online after the end of the initial consultation period. This will be followed in due course by further consultations, including public hearings, before final recommendations are made by 1st July 2023.
More information about the 2023 Review process can be found in the Guide to the 2023 Review which is available on the Commission's website at www.boundarycommission.org.uk.